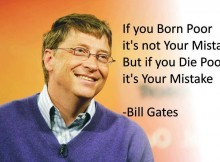 There is no easy way when it comes to success. All successful entrepreneurs and businessmen had a long road on their way to the top. They reached their pinnacle of success through their innovation, hard work and determination.
Bill Gates is one of the people who have reached the height of their success and have managed to stay there. He is an American computer programmer, inventor, business magnate and philanthropist. He has contributed many technological advancements when it comes to the computer industry. He is one of the few people who have managed to revolutionize personal computers.
Early Years
Bill Gates showed interest in programming at an early age. At age 13, he showed his desire in programming the GE system. His teachers showed their support, since he was excused from attending his math classes in order to pursue what he wanted to do. He managed to create his first computer program that was a tic-tac-toe game, which allows users to play against the computer. Since then, he has become fascinated with the computer because of how it is able to execute his software code flawlessly.
After he graduated from high school, Gates enrolled in Harvard College. He devised a pancake-sorting algorithm during his sophomore year. His algorithm was a solution to various unsolved problems in his combinatronics class. Although he did not have any definite plans during college, Gates was slowly headed to his path to success.
Microsoft
Bill Gates remained in contact with his Microsoft co-founder Paul Allen while he was still at Harvard. In 1974, he and Allen found an opportunity to start a computer software company on their own. Gates dropped out of Harvard in order to pursue their ideas. Microsoft was officially created in 1975. Over the years, the company garnered popularity among computer hobbyists.
Microsoft reached major success in November 1985 when it launched its retail version of Microsoft Windows. The program was widely accepted and it was a great contributor in the future of the Microsoft company. Because of his success with Microsoft, he is included in the list of the world's wealthiest people consistently. He is the first richest man in the world as of February 2016 with a fortune of $80 billion.
image credit: Forbes
Giving Back to the Community
Bill Gates and his wife, Melinda Gates created the Bill and Melinda Gates Foundation in 2000. The foundation's aims are to improve healthcare, diminish extreme poverty, provide better access to information technology and improve educational opportunities. The foundation has provided various financial assistance to the poor, encouraged agricultural development, granted various global health programs, improved many educational systems and more.
The Symbol of Success
Despite many setbacks and challenges, Bill Gates was able to face them all. He faced several difficulties, but he conquered every one of them. He was never afraid of trying something new for the improvement and development of technology. His perseverance and dedication to his craft made him the person he is today. He is the perfect symbol of success because he journeyed his own path to the top and was able to stay there.